The Author
- Stephen Leather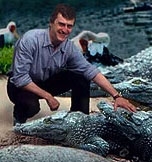 I made several attempts to write while I was at university, but never managed to get beyond a few pages. It wasn't that I couldn't write, it was more a case of not having enough experience to draw on. I found plots difficult, and had no idea how to construct believable and sympathetic characters.
I didn't start writing again until I was in my late twenties and working as journalist. I'd studied biochemistry at the University of Bath, but had decided that I didn't want a career as a scientist. During my third year at university I'd worked as a barman, and one evening had fallen into conversation with a drunken journalist. He made his job sound so much fun that I decided there and then that I was going to be a reporter.

After graduating, I was offered a place on the Daily Mirror Graduate Training Scheme, where I was trained as a journalist. They taught me how to ask questions, how to gather facts, and how to construct a story. In short, they taught me how to write. And once I was in the habit of writing a couple of thousand words a day, I had the confidence to start writing fiction again.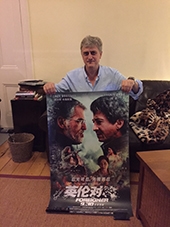 I wrote my first book, Pay Off, while I was working as a journalist in the City office of the Daily Mirror newspaper. Harper Collins bought it, and my next thriller, The Fireman, which I wrote while I was working as Business Editor of the South China Morning Post in Hong Kong.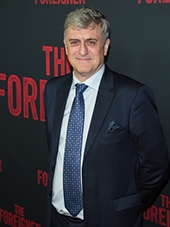 Hungry Ghost was my second book to be set in Hong Kong, and then I returned to London to work for The Times as a night news editor. It was at the time of a major IRA bombing campaign and I wrote The Chinaman , the story of a man whose family is killed in a terrorist bombing. I'd left Harper Collins by then and The Chinaman went to auction and was bought by Hodder and Stoughton, who have been my publishers since 1992. It was my first real bestseller and is still selling well. It has been translated into more than a dozen languages. and in 2017 was made into a movie called The Foreigner, staring Jackie Chan and Pierce Brosnan. The book is also now available as The Foreigner, which I suppose is a bit confusing.
I started writing full time after I sold The Chinaman, and returned to Hong Kong to write The Vets. It was my biggest book by far - in terms of words written. The first draft was more than 300,000 words and I ended up throwing away 50,000 words. Generally I try to write books between 80,000 and 120,000 words.
Then I started spending more time in the United States, mainly in Baltimore, and I set my next two books, The Long Shot and The Birthday Girl, there.
After publication of The Birthday Girl I moved to Dublin where I wrote The Double Tap, then I returned to the Far East to write The Solitary Man (Hong Kong and Thailand) and The Tunnel Rats (Thailand and Vietnam).
My publishers were keen for me to start setting my novels back in the UK (I'd had a run of stories set in South East Asia) so I wrote The Bombmaker, which was published in 1999, a kidnapping story set in Dublin and London. It was filmed for Sky One with the marvellous Dervla Kirwan playing the part of Andrea Hayes, an IRA bombmaker who is forced out of retirement by the kidnapping of her young daughter. Mark Womack played the part of Martin Hayes, her husband.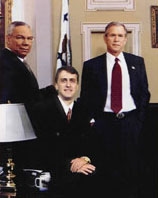 I wrote another TV drama for Sky called The Stretch. It's a two-part London gangster story and featured Eastenders stars Leslie Grantham and Anita Dobson. Hodder and Stoughton were keen to have The Stretch as a book and it was published in 2000. It was the easiest book to write by far as I already had the dialogue in the scripts and I'd had the opportunity of seeing Anita and Leslie playing the roles. The book took less than three months to write, much less than the year it usually took me back then. These days it takes me about four months to write a novel.
My next book was Tango One, published in February 2002. It's about an undercover police operation to bring down a multi-national drugs dealer, Den Donovan. Donovan has more than the undercover cops to worry about - his wife and accountant have stolen $60 million from him, a Colombian gang is after his blood and he has to bring up his young son alone. All this while he's Tango One - number one on HM Customs and Excise List of most wanted criminals.
In 2017 Tango One was made into a movie starring Vincent Regan. It was shot for Universal on a very low budget and went straight to video, but it's not a bad movie.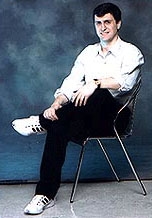 The Eyewitness was published in February 2003 and is a dark, gritty, story about a forensic detective working in Sarajevo who tries to track down the only witness to a mass murder in the killing fields of the former Yugoslavia. The hero, Jack Solomon, comes up against corrupt cops, the Albanian mafia and Maltese gangsters as he tries to bring the killers to justice.
The book published in 2004 was Hard Landing , the story of an undercover policeman who is sent into a maximum-security prison in the UK to bring down a drugs baron who is running his organisation from behind bars. As part of the research for Hard Landing I spent a day inside Belmarsh Prison in South London, where best-selling author Jeffrey Archer was a recent guest. I was chuffed to discover that my books were a big hit in the prison library. The hero is SAS-trooper turned undercover cop Dan 'Spider' Shepherd. I intend to make Spider Shepherd the hero of my next few books. One of my big regrets was killing off Mike 'Joker' Cramer who appeared in The Chinaman, The Long Shot and The Double Tap. I won't make the same mistake with Spider!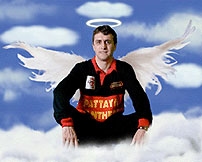 In Soft Target, published in 2005, I have Shepherd investigating a rogue armed police unit, a woman who wants her gangster husband murdered, and terrorists planning a major bombing campaign on the Tube. The events I wrote about became horribly true on July 7 when four 'British' Muslim suicide bombers killed more than fifty people in London. In the book, Shepherd shoots a suspected terrorist in the back of the head several times, another event that was dramatically mirrored by a real-life incident. A lot of so-called terrorism experts are now claiming to be wise after the event, but Soft Target was on the shelves five months before the bombs went off.
The third book to feature Shepherd was Cold Kill, published in February 2006. In Cold Kill he is up against terrorists who want to blow up the Eurostar as it passes underneath the English Channel. I just hope that I am not overtaken by events. Cold Kill was nominated for the Best Novel category in the 2007 Thrillerfest in New York and for Best Thriller in the 11th Annual Barry Awards at Bouchercon in Anchorage, Alaska.
The fourth Spider Shepherd book was Hot Blood , published in February 2007, in which Shepherd has to decide how far he can go to save the life of a former SAS colleague. Geordie Mitchell is kidnapped by terrorists in Iraq, thrown into a basement and the world is told that he'll be beheaded within fourteen days. The British Government is powerless to help so it's up to Shepherd and his friends to do what they can to get Mitchell out. But the only way of rescuing Mitchell is to be as merciless as the terrorists themselves.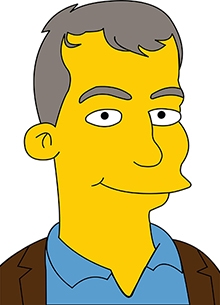 The Dan Shepherd book for 2009 was Live Fire in which Spider has to infiltrate a team of bank robbers who are hiding out in Thailand. The mission puts him on a collision course with a group of Islamic fundamentalists who are planning to shoot down an airliner at Heathrow Airport.
In January 2010 Hodder and Stoughton published my book Nightfall, the first in a new series featuring a detective called Jack Nightingale. Nightingale is a former Met hostage negotiator turned private eye whose life is turned upside down when he discovers that he was adopted at birth and that his real father was a Satanic devil-worshiper who has just killed himself.
The second Nightingale book, Midnight, published in January 2011, was about Nightingale's hunt for his sister, whose soul has also been promised to a demon from Hell. In 2012 Hodder published the third Jack Nightingale book, Nightmare, which has a shocking ending and set the scene for him becoming a continuing character in a series of supernatural mysteries. Nightshade, the fourth Jack Nightingale novel, was published in April 2013 and the fifth, Lastnight, was published in 2014. Carolyn Mays, the managing director of Hodder and Stoughton, decided not to continue with the Jack Nightingale series so I switched to self-publishing the series. I think she made a mistake in dropping the series as the Nightingale books have continued to sell well and he has a firm fan base. So far I have self-published San Francisco Night , New York Night , Tennessee Night, New Orleans Night and Rio Grande Night. I also self-published several Jack Nightingale short stories, including I Know Who Did It, Still Bleeding, Blood Bath, Claws, Watery Grave, The House On Gable Street, and My Name Is Lydia. I then put the short stories together into two collections which are available as eBooks and paperbacks – Nightingale 1 and Nightingale 2.
Dan Shepherd appeared again in the summer of 2010 in a book called Rough Justice, in which he comes up against a group of vigilante cops. I had great fun doing the research with members of the Met's Territorial Support Group. They do a tough job under very difficult conditions and I have a huge amount of respect for them.
In July 2011, Hodder and Stoughton published Fair Game , in which Spider Shepherd goes undercover on one of the world's largest container ships which is about to be seized by Somali pirates. Spider also has problems on the home front, with an IRA assassin on his tail. It's one of my most violent books and I think it's one of my best. I spent more than two weeks on a container ship sailing from Malaysia to Southampton doing the research. I did most of the writing on board the ship.
The book for 2012 was False Friends, which begins with the assassination of Osama Bin Laden (yes, Spider was involved!) and ends with a terrorist outrage in a London shopping mall. The Spider book for 2013 was True Colours in which Spider is drafted in to protect a London-based Russian oligarch who has been targeted for assassination.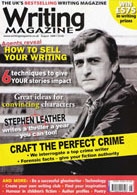 In 2014, Hodder published White Lies, and the following year Black Ops was published, followed by Dark Forces (2016), Light Touch (2017), Tall Order (2018) and Short Range (2019).
Over the years, Spider Shepherd has aged in real time, and his son Liam has gone from being a toddler to an Army helicopter pilot. Shepherd too has changed, from being an SAS trooper to an undercover cop to an MI5 officer.
I have also written a number of short stories featuring Spider during his SAS years. There are two volumes of these short stories, available on Amazon. Look for Spider Shepherd: SAS Volume 1 and Spider Shepherd: SAS Volume 2 . I also wrote two novellas featuring Spider in the SAS – The Sandpit and Moving Targets. Both are available as eBooks and paperbacks on Amazon.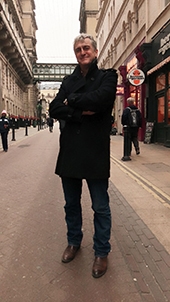 While I have been writing one Spider Shepherd book each year, I have also been writing standalone thrillers.
In 2016 I wrote First Response, about a rash of suicide bombers appearing across London demanding the release of an Islamic terrorist. A Muslim Superintendent is in charge of the police operation, but everything is not as it seems
Also in 2016 I wrote Penalties, a story set during a soccer match. The star striker's family have been kidnapped and he has been told that if his team wins the match, his family will die.
In 2017 I wrote a standalone featuring Lex Harper from the Spider books. Lex is a fun character to write about because unlike Spider he has no real moral scruples. Hodder published Takedown – in which Lex is on the trail of a soldier turned terrorist – and in 2019 I wrote a novella featuring Lex, Plausible Deniability , which is available as an Amazon eBook and paperback. Lex Harper also appears in a novella, Breakout, which I wrote in 2020.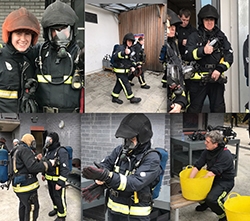 In 2018, Hodder and Stoughton published The Shout, about a female firefighter who is badly burned in a fire and who returns to work as an arson investigator. I had great fun researching the book, and spent time in a burning building with firefighters and hanging out with fire investigators.
In 2019, I wrote what was to be a standalone thriller Last Man Standing featuring Matt Standing, who appeared in the Spider book Light Touch. Standing is in the SAS, and he has to fly to America to help a former Navy SEAL who has been accused of killing the Russian he was hired to protect. Standing is a great action hero, a sort of younger Spider albeit with anger management issues.
In 2020, Hodder published The Runner a standalone thriller about an MI5 officer being hunted all around London after seven of her colleagues are gunned down in a house in Wimbledon. The hero is Sally Page, and I think she might well return in future books.
The Spider Shepherd book for 2020 was Slow Burn, which the Daily Mail said 'could hardly be more topical - it hurtles off the page, grabbing the reader by the throat.'
In 2020 I self-published Killing Time, about a group of former serial killers living in an old folks home in Blackpool. There is a major twist that most people don't see coming. Sadly quite a few readers stopped reading before they got to the plot twist and never got what the book is about! It's worth sticking with it, trust me!
In January 2021, Hodder published The Hunting, a standalone thriller about a billionaire out for revenge who picks on the wrong target.
Later in the year Russian Roulette was published, a Spider Shepherd SAS novella, set in Belarus in the days when Spider was in the Special Air Service. Then in the summer of 2021, Fast Track was published, the 18th Spider Shepherd novel, this one set in the UK, Turkey, and Dubai.
I also self-published Desperate Measures, a novel about people-trafficking and sex workers in London during the Covid pandemic. It's very very different from my regular thrillers and I advise readers to check out the book description before buying it.
The Spider Shepherd book for 2022 was Dirty War, which I think is one of the best in the series. A Richard Yokely novella - The Chase - was also published in 2022.
In January 2023 Hodder and Stoughton published the third Matt Standing book, Still Standing. It will be the last Matt Standing book to be published by Hodder. Managing director Carolyn Mays killed the series. Not long afterwards she took the decision she was let go and now works for an independent publisher. Carolyn Mays has form for killing off my characters - she ended the Jack Nightingale series after just five books. I went on to very successfully self publish Jack Nightingale and so far have published another six books in the series, with more to come. I might take the Matt Standing series to another publisher, or publish it myself.
The Spider Shepherd book for 2023 is Clean Kill, which features Shepherd's son, Liam, who now flies helicopters for the Army. And I also self-published Triggers, a standalone novel about a female serial killer with multiple personality disorder. It has a couple of amazing twists that I don't think anyone will see coming.
Most of the books I write are big international thrillers, but I like to stretch myself by writing in other genres. The problem is that they are not the type of books that my publisher, Hodder and Stoughton, wants to publish. I think that Once Bitten, (a British psychologist tracks down vampires in Los Angeles); The Basement (a serial killer story with a great twist) and Dreamer's Cat (a virtual reality murder mystery) are among the best things I've written. Read them and judge for yourself! They're all available now on Kindle or other eBook devices and have all been eBook bestsellers since they were released in November 2010. The Basement topped the Kindle bestseller list in the UK and the US. I've also published an eBook modestly called The Bestseller, about a writer who is prepared to kill to write a best-selling book. It reached the UK Kindle Top 10, as did my other self-published book Take Two, in which a soap opera star witnesses a gangland killing.
Private Dancer, the story of a doomed relationship between a travel writer and a Thai bargirl, was an unpublished on-line work for many years but it is now available in bookstores throughout Southeast Asia and on Amazon, and it's available on Kindle.
I have also collaborated with Warren Olson, a Kiwi who was a private detective in Bangkok for ten years. Together we have produced Confessions Of A Bangkok Private Eye, based on more than two dozen of his cases. It's different from my regular thrillers but it's fun and gives you an idea of what a crazy place Thailand can be.
I wrote Bangkok Bob and the Missing Mormon – about an American private investigator based in Bangkok - and I hope it will become a continuing series if I can ever find the time to write them. I've also written several short stories including several stories about a Singapore detective, Inspector Zhang. They're locked room mysteries which are great fun to write! You can buy them in a single volume - The Inspector Zhang Collection.
I have also written several short stories set in Thailand– including Banging Bill's Wife, The Alphabet Game, The Threesome, The Ladyboy Lover and The Pregnant Wife – and they are available as eBooks. They are very different from my thrillers, but I had great fun writing them.
What does the future hold? More Spider books, for sure, and I want to write more books featuring Lex Harper and Matt Standing. I will definitely be writing more Jack Nightingale books. And I have several ideas for new standalones that need writing. Busy, busy, busy!