Bangkok Bob and The Missing Mormon
- Stephen Leather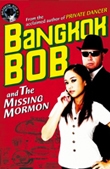 Long-term Bangkok resident and former New Orleans cop Bob Turtledove has the knack of getting people out of difficult situations.
So when a young man from Utah goes missing in Bangkok, his parents are soon knocking on Bob's door asking for help.
But what starts out as a simple missing person case takes a deadly turn as Bangkok Bob's search for the missing Mormon brings him up against Russian gangsters, hired killers, corrupt cops and kickboxing thugs.
And he learns that even in the Land of Smiles, people can have murder on their minds.
STEPHEN LEATHER WRITES
I had always planned to do a series of Bangkok Bob books, but the simple fact is that they don't sell as well as my other work so it's not really cost effective. I do have some titles ready, though: Bangkok Bob and the Jilted Jockey, Bangkok Bob and the Crippled Kick-Boxer, Bangkok Bob and the Much-Maligned Monk, for example. Hopefully I'll get the time in the years ahead to write them.