Clean Kill
- Stephen Leather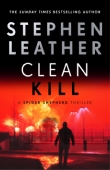 In the first ever Dan 'Spider' Shepherd novel, Hard Landing, Spider was undercover in a high security prison. In Clean Kill, Spider returns to prison, but this time he's there to protect two Asian undercover agents who are putting their lives on the line to penetrate a jihadist terror group.
But Spider is pulled out when his son Liam is kidnapped in West Africa. With the UN peacekeeping forces unwilling to get involved, it's down to Spider and an SAS team to rescue Liam.
But while Spider fights to save his son, the prison he has left behind is about to erupt in violence and terror. And the men that Spider was supposed to protect, find themselves in mortal danger.