Cold Kill
- Stephen Leather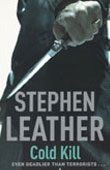 People smuggling, counterfeit currency and attempted murder. It's all in a day's work for undercover cop Dan 'Spider' Shepherd. But what starts as a run-of-the-mill investigation quickly turns into a matter of life and death when he uncovers a terrorist cell on a mission of death and destruction.
The target: hundreds of passengers on the Eurostar deep below the English Channel. With the clock ticking and the explosives primed, Shepherd and his colleagues have to decide just how far they are prepared to go to save innocent lives. And they realise that to avoid catastrophe, they have to be even more merciless than the terrorists.
STEPHEN LEATHER WRITES
Cold Kill is the third book to feature SAS trooper turned undercover cop Dan 'Spider' Shepherd, and I've just signed a contract with Hodder and Stoughton to write three more. The book is about the hunt for a terrorist who plans a bombing campaign around the world. As always I have tried to make it as realistic as possible.
Thriller writers live in a strange world. They spend most of their times trying to work out how to kill and maim, but most of them would be hard pushed to hurt a fly. We know the mechanics of death and destruction, but we'd never cross the line. We'd never do it for real. Put any two crime writers together and before long they'll be talking about the perfect murder. And every writer I've ever met has believed the same as me – that given the time, we could all get away with. We know the tricks, you see. We've spoken to enough forensic experts and detectives to know how most murderers get caught.
But for the thrillers I write, I have to think bigger. I write about terrorists, and to write about them effectively, I have to think like one. Which is why I spent hours wandering around London and Sydney looking for places where suicide bombers might strike.
The London bombings in 2005 had a particular poignancy for me. Just five months earlier my sixteenth novel was published – Soft Target. In Soft Target I have four Muslim suicide bombers, British-born, setting out to detonate bombs on the London Tube. Which is exactly what happened in the capital on July 7, 2005. My terrorists spread out across the Tube system, which is what really happened, and in my book one bomb detonated above ground, as happened on July 7.
In Soft Target, Shepherd shoots one of the would-be bombers in the back of the head seven times, without knowing for sure that the man had a bomb. When I wrote that, I had no way of knowing that it would happen in real life, when an unarmed Brazilian electrician was shot in the head by an armed officer. In the book, Spider's kill was legitimate, but the real-life situation is proving to be much messier. But having done the research, I know what a difficult position the police are in. Suicide bombers have to be shot in the head, and shot until they are dead. And the police might have only seconds in which to make a judgement call.
I wrote Soft Target in 2004 and it was published in February 2005. As I was doing the research for the book, all the experts I spoke to said the same thing – it wasn't a question of whether or not an attack on London would happen, but when. I had no way of knowing how prophetic their words would be. The guys who had helped me with the research were all involved in the aftermath of the July 7 incident. And they were all amazed at how close my book was to what actually happened.
Cold Kill features bombs in Sydney, Australia, and suicide bombers on the Eurostar, the train that runs from London to Paris under the through the cross-Channel tunnel. I consider that both are very possible terrorist acts that could well turn into reality. I take no pleasure in predicting events, but you have to wonder why if I was able to predict multiple suicide bombers on the Tube, those in authority couldn't have done the same.
Shepherd is a great character to write about because he has a mix of police and army training so I can use him in regular police investigations but he's also capable of action stuff, too. The last hero I used in several books was Mike 'Joker' Cramer who appeared in The Chinaman, The Long Shot and The Double Tap. I always regretted killing him off, and I won't make the same mistake with Spider Shepherd.
Cold Kill Reviews
"This is an aggressively topical novel but a genuinely thrilling one, too. Readers after grand guignol will get all they expect and more, but they won't be able to duck the issues Leather explores. Whether Dan defeats the villains here or not, Leather's determination to engage with the real world means that a happy ending is impossible. Very exciting, but in no way escapist." Daily Telegraph
"There's a new breed of British crime writer giving the genre a much-needed shake-up - and Stephen Leather is at the forefront . . . the sheer impetus of his storytelling is damned hard to resist." Daily Express
"The story builds to a boil as Shepherd, piecing together the terrorists' plans as he goes, lands aboard a Paris-bound Eurostar train with four suicide bombers as his fellow passengers. It's a grand finale that'll have readers on edge. Nicely, and seemingly effortlessly, done." Kirkus Reviews
"Do you like your thrillers to increase your pulse rate.... but only slightly? And do you like your thrillers to leave you with a feeling that (in the end) everything is right with the world? Then avoid Stephen Leather--and such books of his as Cold Kill. Leather is not a writer who is particularly interested in soothing the reader--but for those of us who like to tackle thrillers that seem to be genuinely engaged with the modern world, he is essential reading. Reflecting the fact that crime is now a global industry, with major criminals hopping easily from continent to continent, this latest outing for Leather's resourceful undercover operative Dan 'Spider' Shepherd catapults him into a new role. Asylum seekers have been bringing fake euros into the UK in a scam organised by the Albanian Mafia, while Bangladeshi moneychangers handle the London logistics. At the same time, terrorist organisations are busily recruiting men and women who are able to move easily between Western countries without drawing any attention to themselves. And these new recruits are, of course, being handed lethal assignments that it's up to people like Dan to stop. Going undercover, he makes contact with a major Albanian criminal in France, and discovers that (for the right money) British passports are easily obtainable. Soon, Dan is on the trail of a suspected terrorist, and many lives will be at stake unless he can bring a major international conspiracy to a halt. Stephen Leather has long had the measure of fast moving thrillers such as this, and everything (including the pulse-pounding climax aboard a Eurostar train) is orchestrated with maximum finesse." Barry Forshaw, Amazon.co.uk review
"To some in the publishing world Stephen Leather is proving freakishly accurate in predicting international terror events such as last year's London bombings. Which must mean that his 17th thriller is causing a few sleepless nights for those concerned about such issues as an Albanian people-smuggling, Euro-smuggling ring, plus Al-Qaeda recruitment of cleanskins who can travel freely across Europe; plus a sleeper in the British Passport Office selling passports at £10,000 a pop for those seeking visa-free entry into the US. A passport which could prove a terrorist's dream. Plus the fact that Leather's action moves to the Eurostar fast train hurtling under the English Channel with thousands of unsuspecting passengers still to figure in a variant of Twin Towers rerun. For Leather, a former journalist turned one of the hottest thriller writers around, this is merely another gritty drama played out in the knowledge that today's faction easily could be tomorrow's headlines." Brisbane Courier Mail