Dead Men
- Stephen Leather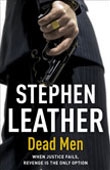 Dan 'Spider' Shepherd has always known that there is no black and white in the war against crime and terrorism. The former SAS trooper turned undercover cop has always operated in the grey areas, putting his life on the line to keep the public safe from harm. But even Shepherd is surprised to discover that his latest mission is to protect the men who once wanted him dead. In August 1996, five masked men brutally murdered an RUC Special Branch officer in front of his young wife and toddler son. Then the IRA announced it was finally laying down its arms and the armed struggle was over. But years later someone is out for revenge, killing the killers one by one. And only Shepherd can save them.
STEPHEN LEATHER WRITES
Dead Men is the fifth book to feature SAS trooper turned undercover SOCA agent Dan 'Spider' Shepherd, and I think the character is really getting into his stride. I'm already working on the sixth and I have no doubt that my publisher will want more!
My first real bestseller was The Chinaman, published in 1992 by Hodder and Stoughton, which was set mainly in Northern Ireland and is about a former Viet Cong's quest for revenge against the IRA bombers who killed his family. I spent some time in Belfast researching the story, and in 2006 I decided it was time to go back and revisit the city post-Peace Process. The changes have been awesome – the troops have gone, the city is buzzing and property prices are soaring. I wish I'd bought property there in 1992!
The IRA played a big part in my life. They blew up the centre of my home town, Manchester, and I was working as a Fleet Street journalist in London during their bombing campaign there. I live in Dublin and throughout the Troubles there was a constant stream of IRA activists passing through the city's nightclubs where they were treated on a par with rock stars and TV personalities.
I have used IRA characters in many of my books, and I wanted to write a novel in which I explored the way that the IRA had changed. The world is so, so, different from 1992 when I wrote The Chinaman. Back then it was IRA terrorists who were blowing up civilians and as a result anyone Irish was looked at with suspicion. I often flew between Dublin and London and as a white, middle-aged male travelling alone I was stopped several times by Special Branch and questioned at Heathrow. These days of course the Irish aren't given a second look - it's Asian Muslims who are causing mayhem and as a result the entire Asian community has come under scrutiny.
I was in Dublin when the IRA announced its cease fire and the Peace Process began, and can recall the huge sense of relief that the Troubles were coming to an end. But I don't think that anyone at the time thought that within a few years convicted murders would be released from prison and that Gerry Adams and Martin McGuinness would be Members of Parliament.
That got me thinking as to what will happen with al-Qaeda over the coming years. Today we demonise the Islamic fundamentalists as heartless killers of women and children, but what if one day there is a political arm of al-Qaeda, and what if a political settlement is reached? Will we one day see al-Qaeda killers and bombers back on the streets, and will we see former al-Qaeda terrorists elected to the British Parliament? I know that sounds far-fetched, but then the IRA Peace Process has set a precedent, and it's clear that, despite protestations to the contrary, the Government does indeed negotiate with terrorists.
I got the idea for Dead Men after reading several newspaper articles about IRA and Loyalist paramilitaries being released from prison under the Good Friday Agreement. It mentioned that some killers had never been caught, but if they ever did stand trial they could end up never serving a day behind bars. I imagined how I would feel if a close friend or relative had been murdered and his killer was pardoned for solely political reasons. And I came to the conclusion that I would want revenge, at any cost. That became the premise of Dead Men – that IRA killers were themselves being targeted in present-day Belfast, with suspicion falling on the wife of a murdered RUC Special Branch officer. It also gave me the chance of having Spider Shepherd getting close to a pretty widow! I have to admit that there I was influenced by the great movie Sea Of Love, where Al Pacino plays a detective who goes undercover to find out whether or not Ellen Barkin is a serial killer!
The Royal Ulster Constabulary was transformed into the Police Service of Northern Ireland, and much of what I knew about the policing of Northern Ireland had changed over the years. I was lucky to be able to pick the brains of a former Northern Irish police officer, Mark McKay, who was a mine of information. My good friend Alistair Cumming, who is now involved in officer training at Bramshill Police College, was also a big help with the research.
I'm still planning to write a separate story featuring Richard Yokely, the shady former CIA guy who now works for a black ops department of Homeland Security. He's great fun to write and has appeared in most of the Spider Shepherd books but I'd really like to give him a story of his own. The same goes for Charlotte Button, the former MI5 agent who now heads up the SOCA undercover unit. Both are very strong characters and deserve books of their own. I just wish there were more hours in the day!