Devilzone
- Stephen Leather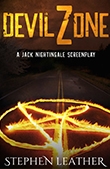 Supernatural detective Jack Nightingale appears in the novels Nightfall, Midnight, Nightmare, Nightshade, Lastnight, San Francisco Night and New York Night. But before the books were published, I wrote the first Nightingale story as a screenplay. The movie was never made, but the screenplay is published here in full. Private eye Jack Nightingale's life is turned upside down the day that he inherits a mansion with a priceless library of occult books. It comes with a warning - that Nightingale's soul was sold at birth and a devil will come to claim it on his thirty-third birthday - just weeks away. Jack doesn't believe in Hell, probably doesn't believe in Heaven either. But when people close to him start to die horribly, he is led to the inescapable conclusion that real evil may be at work.
STEPHEN LEATHER WRITES
The Basement was a bestseller – a true bestseller, it topped the Kindle charts in the US and the UK – and is still one of Kindle's top selling books of all time. It was so successful that Amazon pretty much insisted on taking it off me and publishing it themselves. They took The Basement and Once Bitten off me and now publish them through their 47 North publishing arm. I had great fun writing The Basement and I think it has one of the best twists of any of my books!