Live Fire
- Stephen Leather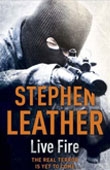 Mickey and Mark Moore are Ordinary Decent Criminals, hard men who live by their own code and leaders of a gang that has made millions at the point of a gun. But when Dan 'Spider' Shepherd is sent to infiltrate the tightly-knit team of bank robbers, he discovers that he has more in common with them than he first thought. And that perhaps being a career criminal isn't the worst thing in the world.
As Shepherd and his Serious Organised Crime Agency colleagues plot the downfall of the Moore brothers, a more sinister threat stalks the streets of London. A group of home-grown Islamic fundamentalist fanatics embarks on a campaign of terror the like of which Britain has never seen. Car bombs and beheadings are only the prelude to what they have planned. And Shepherd is the only man who can stop them.
STEPHEN LEATHER WRITES
Live Fire is the sixth book to feature SAS trooper turned undercover SOCA agent Dan 'Spider' Shepherd. I've just signed a three-book contract with Hodder and Stoughton and they want them all to be Spider Shepherd books, so there are more to come!
A big chunk of Live Fire is set in Pattaya on the eastern coast of Thailand. I've been going to Pattaya for more than twenty years. In the old days it was a quiet seaside place and it was mainly Thais who went there. It's a two-hour drive from Bangkok and a taxi will take you there for 1,500 baht. It only costs 800 baht to come back, which is one of the many mysteries of the Land of Smiles! In recent years Pattaya has changed – expatriates have flooded in and the Thais tend not to go. It's become a massive centre for prostitution, with some estimating that there as many as forty thousand prostitutes plying their trade. And criminals from all over the world have set up shop there. There are British villains who've moved from the Costa Del Crime, Russian Mafia, Nigerian conmen, Chinese triads, American paedophiles, an endless list of bad guys who now call Pattaya home. It used to be a place where families played on the beach but now it's a place where thugs go to party and fight.
In Live Fire, I have a group of armed robbers who fund their hedonistic lifestyle in Pattaya by frequent trips to the UK where they carry out well-planned robberies. Shepherd gets the chance to infiltrate their group when one of the men is injured. It gave me a chance to put Shepherd in Thailand, a country I know well, and to explore what it means to be a villain in the twenty-first century.
I also wanted to explore the nature of Islamic terrorism in the West. The first wave was outsiders, foreigners who struck in other countries, as when the al-Qaeda fanatics hijacked planes and killed thousands on 9-11. The next wave was made up of home-grown Islamic fanatics, like the suicide bombers who attacked the London Tube system. The third wave, according to my sources in the security services, are the converts, fanatics who convert to Islam and then become terrorists. They are going to be the hardest to combat because they are impossible to spot – they don't have dark skin or long beards or wear man dresses, they don't fit any sort of profile. The villain in Live Fire is a former British Army soldier who served in Iraq but who while he was there began to question what he was doing. He becomes a Muslim and eventually decided that he wants to strike at his own country. He gathers a group of like-minded Muslims around him and together they start a campaign of terror in London, starting with car bombs and beheadings and moving onto an even bigger terrorist atrocity.
The difficult thing with Live Fire was bringing the two plot lines together, but I think I made it work, and it's got a rollercoaster of an ending.