Midnight
- Stephen Leather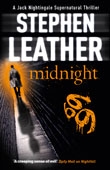 Jack Nightingale has to save a soul – his sister's. But to save her he has to find her, and they've been separated since birth. When everyone Jack talks to about his sister dies horribly, he realises that someone, or something, is determined to keep them apart. If he's going to save her, he's going to have to do what he does best – negotiate. But any negotiation with the forces of darkness comes at a terrible price. And first Jack must ask himself the question: is every soul worth saving?
STEPHEN LEATHER WRITES
I'm having great fun with the Jack Nightingale series and think it will end up as a long-running series. Nightingale is a great character and I enjoy writing about his relationship with his assistant, Jenny.
The second book answers some of the questions raised in the first book, Nightfall, but ends with more unanswered questions which will be dealt with in the third – Nightmare.
The first three Nightingale books will form a very definite trilogy, but I will then have a character who I can use in future books, basically as a supernatural detective investigating cases that may or may not involve the Occult.
They are fun books to write, and they don't involve the huge amounts of research that go into a Spider Shepherd thriller. Readers do seem to like the new series and I hope to keep it running for a few years.