New York Night
- Stephen Leather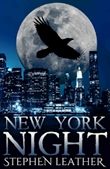 Teenagers are being possessed and turning into sadistic murderers. Priests can't help, nor can psychiatrists. So who is behind the demonic possessions? Jack Nightingale is called in to investigate, and finds his own soul is on the line.
STEPHEN LEATHER WRITES
I always have fun writing the Jack Nightingale stories, he's a great character and the whole demons and devils thing really fascinates me. I don't really understand why Hodder and Stoughton didn't want to continue with the series, Nightingale has a strong fan base and I have no problems selling the books. I guess they just couldn't achieve the sales they wanted/expected, but it seems to me that's a sales issue and with the right marketing and advertising campaigns they should have been able to grow sales. In a way I'm glad they didn't continue as I have more control when I self-publish. I can now do whatever I want with the character.
New York Night is the second Jack Nightingale I've self-published and I'm already planning the third, which will probably be Miami Night. I'm planning on taking Nightingale to all the American cities that I enjoy visiting!