Nightfall
- Stephen Leather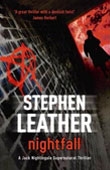 'You are going to Hell, Jack Nightingale.' They are the words that ended Jack Nightingale's career as a negotiator with the Metropolitan Police. But two years later, when Nightingale is a struggling Private Eye, the words come back to haunt him. Nightingale discovers that he was adopted at birth and that his real father, a confirmed Satanist, sold Nightingale's soul to a demon from Hell. And on his thirty-third birthday – just weeks away – the demon is coming to claim its prize.
STEPHEN LEATHER WRITES
I've always been a fan of occult stories. In my twenties I read all Dennis Wheatley's novels and loved them, and one of my favourite movies of all time is Angel Heart with the awesome Mickey Rouke and Robert De Niro. More recently I've enjoyed the Constantine comic books, though I didn't like the movie of the same name. What I really wanted to do was to write a thriller with an occult theme, but very much grounded in the real world. I didn't want to do a vampire story along the lines of Twilight, I wanted a police story with a real investigation, it just so happens that the villain is a demon from Hell!
I originally used the idea as the basis for a screenplay but no one was interested so in 2009 I sat down and wrote the story as a novel. The first draft was 85,000 words and I wasn't completely happy with it. It was a good story but it wasn't as gripping as I thought it should be. I showed it to Julian Alexander, an agent with Lucas Alexander Whitley, and he liked it but agreed that it needed more work. Julian has a terrific editor on his team, coincidentally called Peta Nightingale. Peta helped me with several more drafts, taking it up to more than 100,000 words and adding several more gruesome deaths. It's a much better read now and my publisher, Hodder and Stoughton, loved it. They offered me a three-book deal so I now have to produce another two Nightingale books over the next two years.
I wanted to call the first book Nightingale but Hodder didn't like the title which they thought was too soft. I actually think that they're wrong but we agreed to change it to Nightfall. Hodder considered releasing the book under a different name because having it as a Stephen Leather book might have confused readers who were expecting a pure thriller. But eventually decided that they would stick with my name. I think that Nightfall is enough of a thriller that the readers of my regular books will enjoy it, but it will hopefully also appeal to readers who enjoy supernatural and occult stories.
One of the ways of differentiating the Nightingale books from my regular thrillers and the Dan Shepherd stories is to give them a completely different style of cover. I think they've come up with a great design – it looks gritty with just a hint of the occult from Satanic symbols and the word Hell written in graffiti. I think it's a great cover.
I sent advance copies of the manuscript to the great horror writer James Herbert and my pal Anthony Horowitz the best-selling children's writer and they both gave me terrific quotes to use on the cover.