Nightshade
- Stephen Leather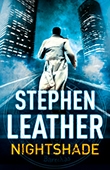 In Jack Nightingale's world - where reality and the occult collide - sometimes the only way to fight evil is with evil. A farmer walks into a school and shoots eight children dead before turning the gun on himself. It seems like a straightforward case - until police search the man's farm and unearth evidence of dark Satanic practices. When the perpetrator's brother approaches Nightingale, adamant that his brother was set up, it's clear that something even more sinister lurks at the heart of the case. And there are dark forces elsewhere.
A young girl miraculously returns to life, claiming she's spoken to those from beyond the grave. Those in contact with her are dying hideous deaths . . . forcing Jack Nightingale to make the hardest decision he's ever faced.
STEPHEN LEATHER WRITES
The fourth Jack Nightingale supernatural detective series was always going to be difficult to write, as it was always intended to be a trilogy! And anyone who has read the first three will understand that while the third book tied up all the loose ends, it did make moving forward very difficult. Anyway, I gave it my best shot and I do think it's a terrific story, mixing the supernatural with the real world in two cases that keep Nightingale on his toes. I do think Nightingale would make a great TV series and have asked my agent to push it hard over the next few months. Off all the characters I've created I think Nightingale is best-suited for the silver screen. Fingers crossed!