Plausible Deniability
- Stephen Leather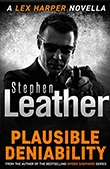 The war on drugs has always been a dirty business. But there are some jobs that are so dirty that even MI5 can't risk getting involved. Which is when the authorities turn to a man who isn't afraid to go where others fear to tread – Lex Harper.
Harper is sent into the Golden Triangle in a bid to block the flood of heroin that is crippling the West. But when the plan backfires, Harper discovers that heroin poses a threat much closer to home. And his retaliation takes him on a mission of revenge around the world.
STEPHEN LEATHER WRITES
I love writing Lex Harper, he's like a younger Spider Shepherd but with a slightly weaker moral code. Spider will always help out his friends and colleagues, but he's reluctant to break the law and has his own strong sense of values. Harper puts himself – and his friends – above everything and regards laws generally as an inconvenience. He will happily kill for money, but would never dream of hurting women or children. And when he is a hired killer, his victims are never civilians. Harper has featured in several Spider Shepherd books but I plan to use him in more standalones.
Plausible Deniability was published by The Soho Agency through Amazon's White Glove programme, which means it is available as an eBook and as a paperback, but only through Amazon. Doing it that way gives the book access to Amazon promotions which it wouldn't be allowed to feature in otherwise.