Private Dancer
- Stephen Leather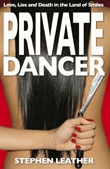 Thailand, 1996, the year of the Rat. Pete, a young travel writer, wanders into a Bangkok go-go bar and meets the love of his life. Joy is the girl of his dreams: young, stunningly pretty and one of the Zombie Bar's top earning pole dancers. What follows is a roller-coaster ride of sex, drugs and deception, as Pete discovers that his own very private dancer is not all that she claims to be and that far from being the girl of his dreams, Joy is his own personal nightmare.
STEPHEN LEATHER WRITES
Private Dancer was one of the first downloadable books as I made it available as a free PDF. Over five years or so, more than 40,000 copies were downloaded around the world. This was well before eBooks were available.
It was one of the first books to be available on the Kindle, and still sells well. The Thailand I wrote about in 1996 has pretty much gone for good. The bars are still there but there are much more commercial these days and a lot less friendly. The internet and social media mean that the girls – and the customers – are much better informed, and these days there is virtually no chance of a guy walking into a gogo bar and finding the girl of his dreams.