Rough Justice
- Stephen Leather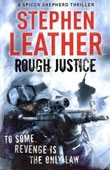 Villains across London are being beaten, crippled and killed by vigilante cops. Crime rates are falling, but the powers that be want Dan 'Spider' Shepherd to bring the wave of rough justice to an end. Shepherd has always known that there are grey areas in the fight against crime. And that sometimes justice gets lost in the process. He has never been comfortable investigating cops, but working for the Serious Organised Crime Agency means that he has no choice. He has to go undercover with an elite group of officers who are at the sharp end of policing, risking their lives daily on the toughest streets in the capital. But Shepherd has hard decisions of his own to make when his family is in the firing line.
STEPHEN LEATHER WRITES
I think that Rough Justice is one of the best of the Spider Shepherd series. I went to a lot of trouble with the research and I think I give a pretty good idea of what it's like on the front line of British policing. It's not a job that I'd want to do, frankly.
I almost became a policeman, years ago. When I graduated I applied to be a graduate entrant on the Avon and Somerset force. I wasn't offered a place on the fast-track scheme but I was told that I could join as a normal entrant and take my chances with promotion. I'd already been offered a place on the Daily Mirror Graduate Training Scheme, so I went off to be a journalist instead.
I think with hindsight I should have applied to the Met instead, and maybe tried a bit harder at the interview. I would have got in at the last glory days of policing, the Gene Hunt era of the Eighties. Back then the police were respected and obeyed and had real power. Over the years they have been hobbled by rules and regulations that have effectively prevented them doing their job – preventing crime and catching criminals. Instead they have virtually become an arm of social services and spend more time filling out forms than they do walking a beat.
In many ways I'm lucky that I didn't join the police. I'd now be at the end of my career with thirty years of service, and I guess I'd be pretty depressed and cynical at the way the Job, and the country, has changed. I'd probably have better research for my books, though, because I'm sure that if I had been a policeman and not a journalist I'd have still ended up as a writer.
At the end of Rough Justice, Shepherd makes it clear that he wants to leave SOCA. The Serious Organised Crime Agency has been a big disappointment and is little more than a self-serving bureaucracy along the lines of the Child Support Agency. Too many managers, too many time-servers, too many box-tickers, and not enough thief-takers. It's lost its way and it's doubtful if it'll ever get back on track.
The theme of Rough Justice is vigilantism, with the cops, and Shepherd, having to take matters into their own hands to see that justice is served. And with the way the police have been weakened and emasculated over the past decade, I can understand why people are now so keen to take the law into their own hands.