Short Range
- Stephen Leather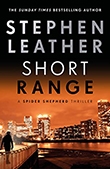 Dan 'Spider' Shepherd's career path - soldier, policeman, MI5 officer - has always put a strain on his family. So he is far from happy to learn that MI5 is using teenagers as informants. Parents are being kept in the dark and Shepherd fears that the children are being exploited.
As an undercover specialist, Shepherd is tasked with protecting a 15-year-old schoolboy who is being used to gather evidence against violent drug dealers and a right-wing terrorist group. But when the boy's life is threatened, Shepherd has no choice but to step in and take the heat.
And while Shepherd's problems mount up at work, he has even greater problems closer to home. His son Liam has fallen foul of the Serbian Mafia and if Shepherd doesn't intervene, Liam will die.
STEPHEN LEATHER WRITES
Short Range is the sixteenth book in the Spider Shepherd series. I like the way that Spider has aged in real time over the course of the books, as has Liam. Liam started in Hard Landing as a toddler and is now flying helicopters for the Army. I have a strong suspicion that he will feature in books of his own in the not-too-distant future.
Spider gets a new boss in Short Range – Giles Pritchard – who plays a major role. I think they will work together for quite a while, I like the chemistry between them.