Soft Target
- Stephen Leather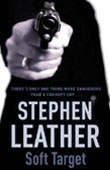 There's only one thing more dangerous than a corrupt cop, and that's a corrupt cop with a gun. When an elite armed police unit appears to have gone maverick, Dan 'Spider' Shepherd is sent in to the firing line. And as he starts to investigate fellow cops, he has to decide where his loyalty lies. To his colleagues, his masters, or his family.
Shepherd is ordered to infiltrate an SO19 unit, a tight-knit team of armed policemen patrolling the mean streets of London. It's the first time Shepherd has had to investigate his own, and he is far from happy about the prospect. The armed cops have killed drugs dealers in a shoot-out, and they face long prison sentences if Shepherd can prove that they've gone bad.
But what Shepherd doesn't know is that another case he is working on is about to blow up in his face. A woman wants her gangster husband killed, and Shepherd is playing the role of a hitman for hire. When that case starts to go wrong, it risks blowing his cover with the armed cops.
As Shepherd struggles to keep both investigations in play, a Saudi terrorist is planning a major terrorist operation that, if successful, will kill hundreds of innocent civilians in the capital.
STEPHEN LEATHER WRITES
Soft Target is the second book to feature SAS-trooper turned undercover cop Dan 'Spider' Shepherd, who I plan to use in the next few thrillers. He's a great character to write about because he has a mix of police and army training so I can use him in regular police investigations but he's also capable of action stuff, too.
I'd been wanting to write about armed cops for some time. I was lucky enough to find a police contact within SO19 who was happy to brief me on the work of the elite unit. The work they do is dangerous and not especially well paid, and I am full of admiration for what they do. They do an almost impossible job, and yet when things occasionally do go wrong they come under savage attacks from the media and politicians.
I also wanted to explore terrorism in the book, and was especially interested in what preparations were being made to cope with a terrorist attack on the London Underground. I was given a thorough briefing by London Underground security staff, and was given full access to their control room. I wrote the book in 2004 and it was published in February 2005. As I was doing the research for the book, all the experts I spoke to said the same thing – it wasn't a question of whether or not an attack would happen, but when. I had no way of knowing how prophetic their words would be.
In Soft Target I have four Muslim suicide bombers, British-born, setting out to detonate bombs on the London Tube. Which is exactly what happened on July 7, 2005. My terrorists spread out across the Tube system, which is what really happened, and in my book one bomb detonated above ground, as happened on July 7.
The guys who had helped me with the research were all involved in the aftermath of the July 7 incident. And they were all amazed at how close my book was to what actually happened.
In Soft Target, 'Spider' shoots one of the would-be bombers in the back of the head seven times, without knowing for sure that the man had a bomb. When I wrote that, I had no way of knowing that it would happen in real life, when an unarmed Brazilian electrician was shot in the head by an armed officer. In the book, 'Spider's kill was legitimate, but the real-life situation is proving to be much messier. But having done the research, I know what a difficult position the police are in. Suicide bombers have to be shot in the head, and shot until they are dead. And the police might have only seconds in which to make a judgement call.
The book for 2006 is Cold Kill. It features bombs in Sydney, Australia, and suicide bombers on the Eurostar. I consider that both are very possible terrorist acts that could well turn into reality. I take no pleasure in predicting events, but you have to wonder why if I was able to predict multiple suicide bombers on the Tube, those in authority couldn't have done the same.
The Tube shooting had one unexpected side effect. My publishers had planned a huge advertising campaign for Soft Target on the Tube and at mainline railway stations featuring posters with a life-size figure firing a handgun. It was immediately pulled following the real-life shooting. Instead they went for full page advertisements in Nuts and Zoo, two lads magazines featuring attractive women wearing very little in the way of clothing!
In Soft Target, Shepherd is also investigating a woman who wants her gangster husband killed. Shepherd pretends to be a hitman-for-hire as he gets the woman to incriminate herself, but the closer he gets to her the more he realises that she is the victim rather than her husband. I've always been fascinated by hired killers. I can understand killing out of hatred or for revenge, but I don't see how a person could switch off all moral constraints and conscience and murder just for money.
Shepherd's troubles continue to mount up on the home front. He is still coming to terms with the death of his wife, and has to find someone to take care of his young son, Liam. That's one of the things I enjoy about writing about the character – I get to explore his home life as well as his police work.
Soft Target Reviews
"Most thrillers are little more than a series of tenuously connected action set-pieces with cursory moments of characterisation, but writing to a formula is something that clearly doesn't appeal to Stephen Leather Leather, a former journalist, can dispense high-adrenaline plotting but never at the expense of remembering that his characters are humans rather than Action Man dolls. In such books as The Long Shot, the plot never pulls along wafer-thin characters in its trail, Dan Brown-style. Hard Landing introduced Dan 'Spider' Shepherd, an SAS trooper-turned-detective in an elite undercover squad. Up against a drugs baron exterminating witnesses to his crimes, Shepherd ended up undercover in a top security prison, with violent results. That book was well received and will have whetted appetites for Soft Target, the second book to feature Shepherd, whose mix of police and Army training ensures that he can be used in police investigations while still being hard-wired for action. In Soft Target, Shepherd takes on a maverick police unit that has a sideline in ripping off drug dealers. As always with Leather, the technical detail here is totally plausible (the author has a police contact.) There's another plotline: Shepherd is also investigating a woman who wants her gangster husband killed. Shepherd pretends to be a hitman for hire as he gets the woman to incriminate herself but the closer he gets to her, the more he realises that she is the victim rather than her husband. The various storylines are orchestrated with precision and the steadily accelerating tension is maintained with assurance. Leather is fascinated by the psychology of hired killers. How can an individual disarm all moral constraints and commission murder for hard cash? However, none of this moral equivocation gets in the way of his trademark action, authoritatively handled." Barry Forshaw, Sunday Express
"The Turks and Yardies share a mutual loathing. Each gang virtually checks their hands for a full compliment of fingers after a drug deal is done. But business is business and business is good. It can be very profitable if you stay alive. Keith Rose has learnt this in his 15-year career with the Met. He also knows that Dublin is a good place to offload the 15 kilos of heroin that he and some maverick colleagues have stolen from the Yardies. He is of the opinion that his Irish counterparts have the potency of the Keystone Cops. Dan 'Spider' Shepherd, a member of an elite undercover unit, is asked to infiltrate the gang. Investigating cops is messy. Judging by the firepower they have at their disposal, this could get very messy. Shepherd has lived inside so many different people's skin for so long, he has difficulty knowing who he is any more. The widower also has to win back the trust of his young son, who is rapidly becoming like a stranger to him. Reading Stephen Leather at leisure is always a pleasure. The pacing of Soft Target is superb. The plot takes us from Harlesden to Miami, and into the minds of Muslim fundamentalists in Pakistan. If rogue cops were all Spider Shepherd had to worry about, it would be a short novel. Shepherd is no gung-ho, testosterone-driven robo-cop; he feels so much older than his 34 years. We feel his pain." Danny McElhinney, Ireland on Sunday
"Stephen Leather is a master of the thriller genre and Soft Target does not disappoint. The background to the drugs trade immediately grabs one's attention and the pace never lets up from then on. Leather gives the impression that he has done his research immaculately, and his attention to detail is immaculate. The result is a gripping read, the equal of anything of its nature being published on either side of the Atlantic." Irish Times