Still Standing
- Stephen Leather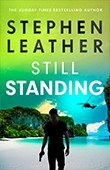 The SAS are used to deaths during combat - it goes with the turf. But when one of their own is said to have committed suicide in Thailand, red flags are raised.
Pete Green wasn't the sort of soldier who would ever take his own life - and no one is more sure of that than his twin brother, Davie. Davie is determined to fly to the Land Of Smiles to find out what really happened to his twin brother. But if he is going to find out the truth he'll need help - the sort of help only SAS Sergeant Matt Standing can provide.
But soon after they arrive they come under attack, leaving Standing to investigate on his own. There are clearly people who want to shut down all enquiries and Standing knows he will have to use all his SAS jungle skills to survive. This will be the toughest of assignments but nothing will come between him and the truth ...
I wrote Still Standing during the Covid lockdown. I was in Thailand and wasn't able to fly back to the UK. I set the book in Thailand and was able to travel to Koh Chang to do the research. I think it worked really well and I'd like to set more books in Thailand.
Still Standing will be the last Matt Standing book to be published by Hodder and Stoughton. The firm's managing director, Carolyn Mays, decided she didn't want any more so I will self publish future books in the series. Carolyn has form for this - she killed off my Jack Nightingale series more than ten years ago, and I have self-published the rest of that series with considerable success. Carolyn was let go as Hodder's managing director at the end of 2022, so, you know, karma! LOL.