Take Two
- Stephen Leather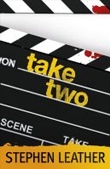 Carolyn Castle is one of the most famous faces in the UK - a soap opera star known to millions. But when she witnesses a gangland killing she has to ask herself if her fame could be the death of her. The killer is charismatic gangster Warwick Richards. A man more than capable of killing again to protect his secret. But does he know that Carolyn saw him commit murder?
STEPHEN LEATHER WRITES
I wrote Take Two for fun, mainly because I had worked on TV shows like The Knock, London's Burning and Murder In Mind, and I wanted to play around with characters and situations that I had come across while I was working. It's not my best book by far, but I did enjoy writing it.