The Bestseller
- Stephen Leather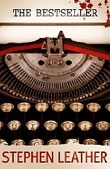 Would you kill to write a bestseller? Well Adrian Slater says that he's prepared to do just that – and announces the fact in a creative writing class. Lecturer Dudley Grose is convinced that Slater is a psychopath and means what he says. But the Dean of the university doesn't believe him and neither do the cops. But when a student on the course vanishes and her bathroom is awash with blood, the police wonder if Slater has actually carried out his threat, and if the book he's writing contains the evidence that will put him away.
STEPHEN LEATHER WRITES
The Bestseller is a book about murder, but it's also an insight into the creative writing process and how ePublishing has changed the rules for ever, creating a world where murder as entertainment might actually pay. I wrote it just as eBooks were taking off, when it was all new and very exciting. Back in those early days I had three self-published books in the Amazon Kindle Top 5 for months, and my self published book The Basement topped the eBook fiction list in the UK and the US. I was one of the first writers to sell a million eBooks and I am still a big seller. Personally I prefer to hold a book when I read, but there's no doubt that eBooks are here to stay.