The Eight Curious Cases of Inspector Zhang
- Stephen Leather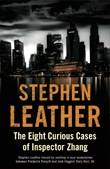 Crimes are rare in Singapore, but when there's a crime that has the police baffled, it is Inspector Zhang that they turn to. From locked-room mysteries to murders disguised as suicide, Inspector Zhang is able to draw on his experience as a detective along with tricks he has learned from reading the books of Sir Arthur Conan Doyle and Agatha Christie.
STEPHEN LEATHER WRITES
I've always loved locked room mysteries so I had a go at one myself – Inspector Zhang Gets his Wish. I set it in Singapore, a city I am reasonable familiar with. Murders are very very rare in Singapore so I thought it would be fun to have a detective facing a murder investigation.
I published the story on the Kindle and it did reasonably well so over the course of a couple of years I write seven more and put them together in this collection. I think they're quite clever and I had a lot of fun writing them. They are very different from my regular thrillers, with a much slower pace.