The Eyewitness
- Stephen Leather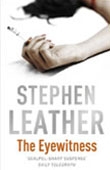 The idea for The Eyewitness sprang from my friendship with Gordon Bacon, a former north of England policeman who heads up the International Commission on Missing Persons in Sarajevo. Gordon and his team identify the war dead in the Balkans using state-of-the-art DNA profiling. Police contacts of mine had told me that a large number of prostitutes from Eastern Europe were flooding into the UK from the Balkans, and it seemed to me that I could produce an interesting book by combining the two themes - massacres in the Balkans, and human trafficking.
Gordon told me of a case where a refrigerated truck full off Muslims had been driven into a river and that was the starting point for The Eyewitness, a horrific massacre with one young girl, the eyewitness of the title, on the run from the killers.
STEPHEN LEATHER WRITES
I spent a week with Gordon in Bosnia where I met with several police officers and UN workers. I visited several brothels in Bosnia and Croatia, and spoke to girls working there. In London I spoke to crime reporters and police officers, and met dozens of working girls and their maids.
In all I probably spoke to forty working girls, from high priced escorts to girls in Soho walk-ups who spoke little English. Many were from countries such as Lithuania, Poland, Russia and Slovakia. I didn't meet anyone who would say that they were forced into prostitution, and while that definitely does happen all the girls that I met had made a choice to sell themselves. It was in effect a career choice. The fact that so many of the working girls are from abroad, and especially from poorer countries, is because they can earn more in London in six months they could in ten years back in their own countries. A girl working for a big London escort agency can easily earn £200,000 in a year.
Most decide to work for a set period of time, a few years at most, and save their money to set up their own business back in their own country. Some of the foreign ones end up marrying clients. Most do not see it as a long-term career. The ones that do stay on the game for many years are the ones with drug problems or with a pimp, as both drugs and pimps prevent them from saving their earnings.
Prostitution is already legal in the UK. A woman who accepts money for sex is not breaking the law. As explained in the book, it is the offering sex for money - soliciting - or offering money for sex - importuning - that breaks the law. The act itself is legal. The law allows for a prostitute to work from a flat, but not more than one. Though she is allowed a maid who can answer phones and show callers in and out. More than one working girl in a flat means it is classed as a brothel and is therefore illegal.
Providing the girl isn't being coerced, and she's not underage, and providing that everything that takes place is consensual, then I personally don't see that there is a problem. Even the police seem to accept this. A girl working on her own from a flat is never hassled. Vice are more interested in organised prostitution, girls who are being abused, and illegal immigrants, as well as getting prostitutes off the streets.
In my opinion the business should be totally legalised and regulated. Escort agencies could be sold licences, their girls would be taxed and have to have weekly/monthly medicals, and VAT would be charged. (A lot of prostitutes are already registered for tax as they know they will have more problems with the tax authorities than with the police).
I also don't see why working visas couldn't be issued to girls from overseas who wanted to work as prostitutes in the UK. That way they could also be regulated, taxed, and medically checked. At the moment the foreign girls are working illegally and so tend to avoid health checks, or talking to the police if they are robbed or abused. Regulation would also solve that. Regulation would offer protection to both parties, to the girls and to the customers. Just my opinion! Anyway, my research was an eye-opener, both to the horrors of the ethnic cleaning in the Balkans, and to the mechanics of internet prostitution, and I certainly think I produced a memorable thriller!