True Colours
- Stephen Leather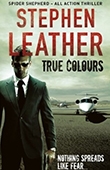 The Russian oligarchs are the world's new elite. They treat the world as their plaything, traveling without borders and living lives of unimaginable luxury without fear or restraint. But when an assassin starts killing off some of the world's richest men, an oligarch with friends in high places seeks the protection of MI5. And Spider Shepherd is placed in the firing line. But while Shepherd has to save the life of a man he neither likes nor respects, he has to deal with a face from his past. The Taliban sniper who put a bullet in his shoulder turns up alive and well and living in London. And Shepherd is in no mood to forgive or forget.
STEPHEN LEATHER WRITES
Recently there here have been a number of high-profile murders of well known and high-profile Russians in London, and I wanted to take Spider Shepherd into that world. I was lucky enough to meet up with a former SAS guy who now protects a Russian oligarch and he was able to give me an insight into that world, a world that most people never see. To the new rich, the planet is a giant playground. They can go where they want and pretty much do what they want, but men like that need protection, twenty four hours a day, seven days a week.
I also wanted to take a look at how Spider got shot, and for the first time we realise that not everything in Spider's past is as he straightforward as he believes. I had great fun writing the novel but I was under considerable time pressure – I ended up completing most of the book in just under three months, but as I was in full flow, time seemed to speed by.