White Lies
- Stephen Leather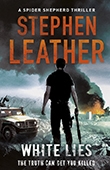 Dan 'Spider' Shepherd is used to putting his life on the line - for his friends and for his job with MI5. So when one of his former apprentices is kidnapped in the badlands of Pakistan, Shepherd doesn't hesitate to join a rescue mission. But when the rescue plan goes horribly wrong, Shepherd ends up in the hands of al-Qaeda terrorists. His SAS training is of little help as his captors beat and torture him. Shepherd's MI5 controller Charlotte Button is determined to get her man out of harm's way, but to do that she's going to have to break all the rules. Her only hope is to bring in America's finest - the elite SEALs who carried out Operation Neptune Spear - in a do-or-die operation to rescue the captives. White Lies is a fast paced, seat-of-your-pants thriller which will have you hooked from the first page until the last.
STEPHEN LEATHER WRITES
In White Lies I wanted to use Spider in an action-packed story where we see him getting more physical. He's older, forty this year, but his SAS training can kick in when necessary. I also wanted to revisit Raj Chaudry from False Friends, a terrific character who might well appear in future books. White Lies also marks the return of the shady US intelligence operative Richard Yokely. He's one of my favourite characters and I have a book featuring him as the main protagonist on the back-burner!